Safe Access Control to help everyone get back to business
Everyone is looking forward to returning to offices, shops and public buildings -but it's essential to reduce our risk so we can all live, collaborate, learn and resume day-to-day life confidently.

OneScreen GoSafe securely scans visitors in less than one second, checks their body temperature, provides the option for facial recognition and mask usage, provides access control integration for automatic doors, and features live video assistance for real time entry approval -all without any manual intervention.
Go safely back into public spaces.
Introducing OneScreen GoSafe, a Qualcomm-based device. Scan for temperature, mask presence and facial recognition.
Why GoSafe?
Securely scan in less than one second with on-board AI
The only scanner with live video assistance for real time entry approval
Provides access control integration for automatic doors
Centralized management for multiple scanners, data and attendance
Free, unlimited help & training
What is unique about GoSafe?
Download the Datasheet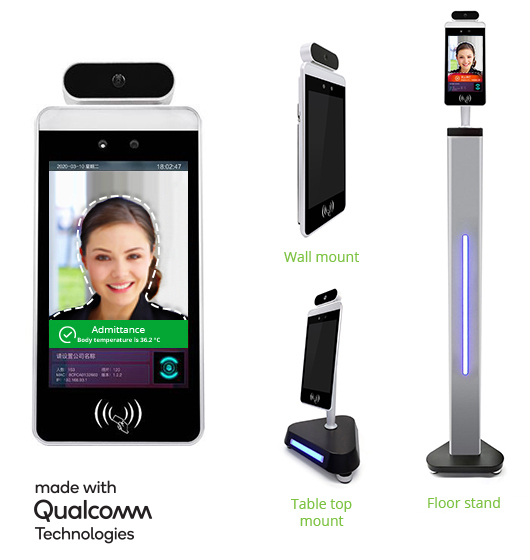 e92plus Partner? Quote and Buy the OneScreen GoSafe now Buy now
Securely scan and prevent people with elevated temperatures or no mask from entering your offices, hospitals and public spaces.
3 Operation Modes
Stand-alone offline
LAN managed
Cloud managed
Customisable Setting
Body temperature level
On/Off facial recognition
On/Off mask presence
On/Off card reader
Access Control
Allow entry based on temperature, mask detection, facial recognition, ID card or via remote approval
Here's a great example of OnScreen GoSafe in action, helping to keep the public safe. Mayor Fulop announces that Jersey City in the USA will install OneScreen GoSafe state-of-the-art body temperature scanner and mask recognition technology at the entrance to all Jersey City municipal buildings to help slow the spread of COVID-19 infections.